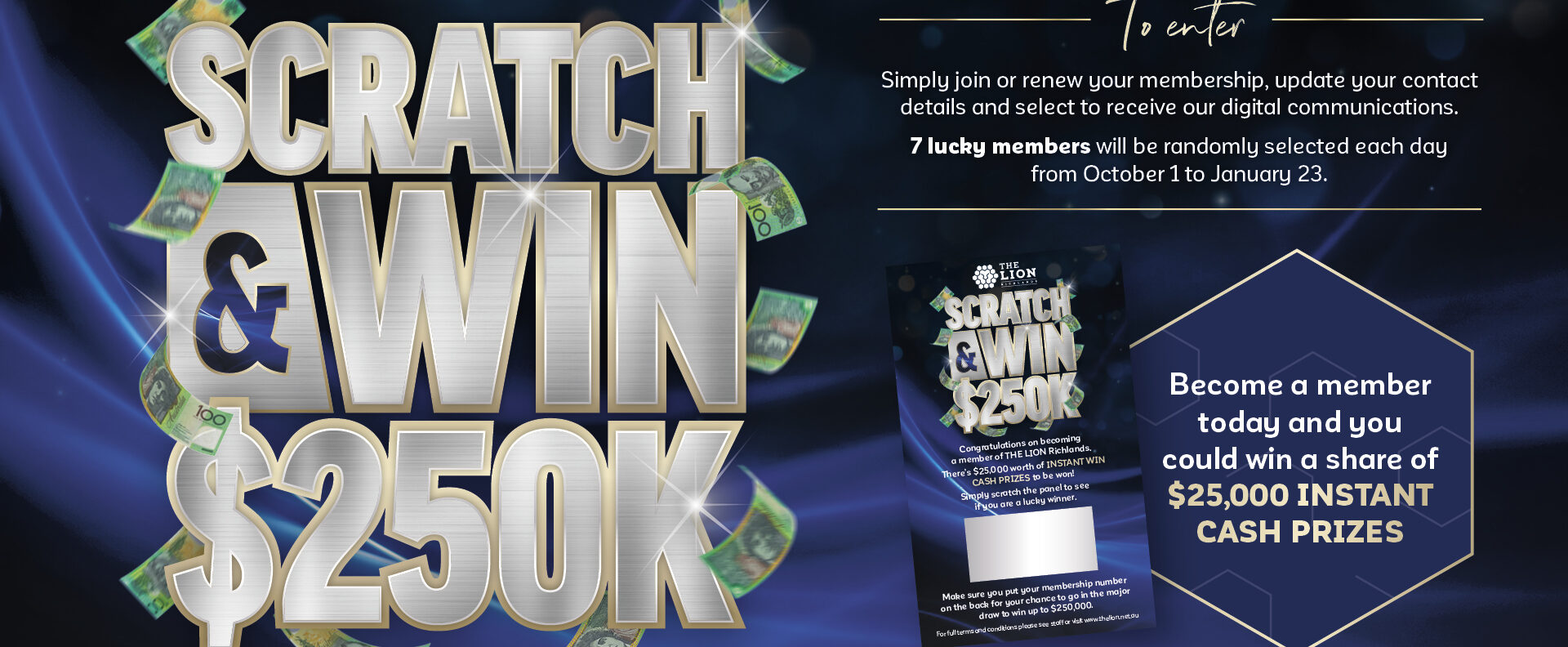 There's never been a better time to join or renew your membership at The Lion Richlands… and we've got over 250,000 reasons to prove it!
How would you like to win $250,000?
Simply join or renew your membership with us for 2022 and you might get to find out!
Not only that, if you join or renew before January 23, not only will you get discounts on every food and beverage purchase, you will also receive a Lion's "Scratchie" card and have the chance of winning in a share of $25,000 GUARANTEED!
Then pop your "Scratchie" entry into the draw for the chance to be selected to go in our Major Membership draw on January 30 for the chance to win in another $10,000 and maybe even the lucky finalist to play for $100,000 or $250,000.
But wait there's more…
You will also receive a Freedom Fuel discount card where you can save between 6 and 8 cents per litre every time you fill up.
Simply fill in all your details on our Membership Form on this page, including your email and mobile phone number for the chance to go in the $250,000 draw, pop into The Lion Richlands and collect your 2022 Membership card, "Scratchie" entry and your Freedom Fuel card… it will be the best $5.00 you spend this year.
For full terms and conditions, please click the link below:
With exquisite food, exceptional service and entertainment for all ages, THE LION Richlands is a great place to unwind whilst having fun with family and friends. When you step through our doors, you become part of our club – whether you play for us, cheer for us, work for us or are visiting for the first time, we want you to feel like you belong.
2022 Membership is only $5.00 and you will become part of an incredible, industry-leading innovation when you join The LION Richlands family. Reward yourself with exclusive membership benefits including:
Members discounts on all food items, excluding promotional items

Members discounts on all beverage items, excluding promotional items

Complimentary tea & coffee in the gaming room

Discounts on all feature events and shows

Use of The LION Richlands courtesy bus (within a 5km radius of the club)

Use of Little Lions Kid's Club our excellent child minding facility

Entry into exclusive daily members promotions

Entry into major promotions

Earn points with our Midas Rewards loyalty program for additional exclusive benefits!
Built on and backed by a love of football spanning over 60 years, THE LION Richlands connects members, guests and the football family to a vibrant venue that advocates the beautiful game — where they feel safe, welcomed and valued. THE LION Richlands is where the heart pounds. From our players to staff, from our chefs to members we are united in our love for the club. We are proud and we are winners. THE LION Richlands, where wonder awaits.